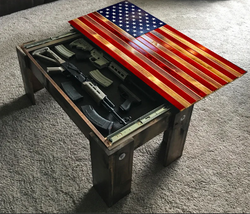 Red Torched Concealment Table
Are you looking for a discreet yet stylish way to store your firearms and other valuables?
Crafted from high-quality materials and featuring a stunning Red Torched American flag design, this table is the ultimate way to show your patriotism and your commitment to security. With outside dimensions of 52" x 22", standing 19" off the ground, it's the perfect size to store your firearms, knives, flashlights, and other valuables.
And with its customizable kaizen foam insert and RFID locking system, you can be sure that your firearms and other valuables are securely stored and easily accessible whenever you need them. Plus, with its stunning Torched Red American flag design and handcrafted construction, this piece is sure to be a centerpiece of any room in your home.
So if you're a proud American looking for a stylish and secure way to store your firearms and other valuables, order your Torched Red American Flag Concealment Table today and experience the ultimate in style, security, and patriotism!"