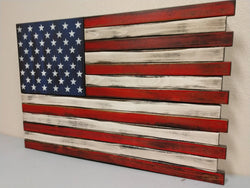 Large Heritage Guard Duo-Safe American Flag Concealment Case
Heritage Guard Duo-Safe American Flag Concealment Case
Celebrate the enduring legacy of the American flag, which has stood as our nation's unwavering symbol since July 4, 1960. 
Spacious and Secure Storage
Embrace our largest wooden concealment flag design, featuring two hidden locking compartments lined with versatile Kaizen closed-cell foam. Easily customize the foam to accommodate handguns, knives, and more. Magnetic safety locks are standard, and the lower door boasts a smooth-operating gas strut. For enhanced security, upgrade to a Digital RFID lock.
A Tribute to Betsy Ross
While the debate continues about Betsy Ross's role in crafting one of the first American flags, we believe that if she were with us today, she would take pride in seeing her 13-star variant design grace homes nationwide. Our hand-finished American wood showcases the 1777 colonial flag version, and we offer an array of other designs, including:
The Second Amendment text
The Nyberg Three Percent flag
Monochrome color scheme
Thin Red Line variants
Christian flag variant
Deer Skull stencil
Customizable American Flag Designs
If you hold a particular design close to your heart and wish to personalize colors, prints, wood tint, or other features, reach out to us. We'll collaborate to create the perfect American flag design for your concealed firearm storage needs. Each large American flag gun concealment case is handcrafted and finished in our Southwest Missouri production facility.
American Flag Gun Case Dimensions
Exterior: 39" x 26.5"
Interior Upper Compartment: 13.25" x 14.5"
Lower Compartment: 35.25" x 10.5" x 2.25"
Shipping: Occasionally, we experience increased demand, yet please be assured that your order remains our primary focus. Our standard processing time typically spans 5 to 7 days. During peak seasons, this duration might extend to 10 to 16 days for processing then the items are shipped. We sincerely value your order. Thank you again for your order.