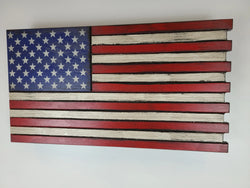 USA Heritage Flag Concealment Box
Compact Patriot's Haven: The USA Heritage Flag Concealment Box
The USA Heritage Flag Concealment Box is a budget-friendly, space-conscious solution for those who cherish the Stars and Stripes. While compact, this "mini" concealment flag offers remarkable storage capabilities, accommodating multiple firearms, magazines, and knives. It's the perfect fusion of traditional American flag aesthetics and discreet, compact concealment.
Maximized Security in Minimal Space
Despite its modest footprint, the USA Heritage Flag Concealment Box boasts the same robust security features as its larger counterparts. Concealed within is a hidden compartment equipped with a magnetic safety lock, with an option to upgrade to a Digital RFID lock for enhanced security.
The Mini: Ideal for Home Defense
Designed to store your home defense weapons, this concealment case offers ample space for your favorite handguns, magazines, and accessories while occupying the smallest wall space possible. It finds its place perfectly in bedrooms, offices, entryways, man-caves, and other cozy corners. Experience the convenience of concealing your home defense handguns with the Mini.
Crafted with American Pride
As with all our concealment flags, the USA Heritage Flag Concealment Box is hand-crafted from wood and features customizable Kaizen foam inserts. It proudly bears the "Made in America" stamp, manufactured and assembled in Southwest Missouri. 
Mini American Flag Gun Case Dimensions
Exterior Dimensions:

Width: 24"
Height: 13"
Depth: 3.5"

Interior Compartment Dimensions:

Width: 21.75"
Height: 11.25"
Depth: 1.75"
Shipping: Occasionally, we experience increased demand, yet please be assured that your order remains our primary focus. Our standard processing time typically spans 5 to 7 days. During peak seasons, this duration might extend to 10 to 16 days for processing then the items are shipped. We sincerely value your order. Thank you again for your order.